Dr. Taylor Burrowes, PhD is a former licensed marriage and  family counselor and now works as a relationships counselor, mental health coach, and corporate consultant. Based in The Cayman Islands, she manages a blog and hosts The Babecast, a podcast on love, sex, relationships, wellness, and self development.
I met Taylor on twitter sometime over this past summer and I found her content interesting and uplifting. She seemed to really capture the idea of a strong, powerful, feminine essence but not forgetting to place personal responsibility on the self for happiness and well being.
Taylor was kind enough to give me some time on her podcast show a couple weeks ago. She and I first agreed to do an audio podcast on AnchorFM where her show usually resides,  but in the few days before our recording, she decided to move The Babecast from audio on Anchor to video on YouTube.
At the time of our recording, we didn't realize there was a time limit placed on our session, so it was cut a little short, but I felt it was a good talk for my first video appearance. Podcasting is new to me and I was admittedly a bit nervous, but I want to be able to branch out on to other forms of media rather than just writing. I think it's a great way to connect with others who share an interest in similar discussion topics. I also want to give my audience more of a true sense for who I really am as a person.
I know from a consumer's standpoint that it's one thing to read someone's writing, but it's so much more to hear them in audio and and watch them on video talk about the things they are passionate about. I would really enjoy participating in more podcast shows in the future.
Let me know what you think in the comments, and I might be adding a few thoughts on our conversation below as well.
Taylor is awesome at her work, so if you think you would be interested in doing a session with her, check out the details on her services for more info. You can also check out her past podcast episodes on AnchorFM and future recordings can be found on her YouTube channel.
If you like this post and others, feel free to share a comment.
Hoping everyone has a nice Thanksgiving Day.
— Ash Pariseau
PS – Earlier this year, I was invited for my first ever podcast interview as a writer. It was with a man who hosts a radio show talking to Millennials about issues we encounter in modern society. In the episode, we discussed my post,  This Is What The Hell Has Happened To Going On Dates. We go a little bit into the idea of online dating and the struggles men and women face in finding what they are looking for. I'll be sending the link out in my next email, so if you'd like to listen, sign up in the form at the bottom of this post and you will be sent a link to the audio source when my next email goes on Monday.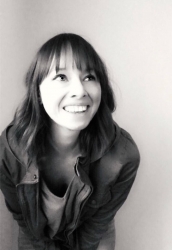 Latest posts by Ash Pariseau
(see all)