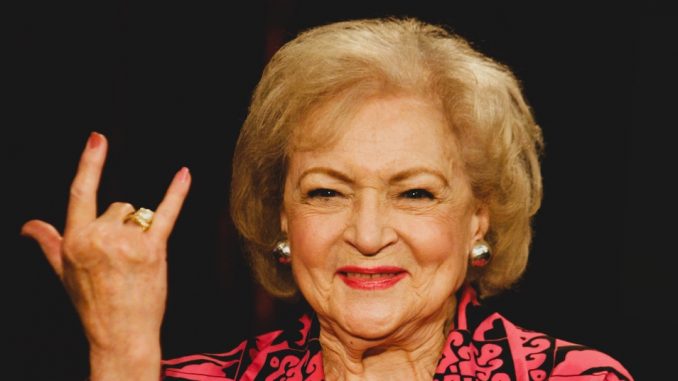 America's Golden Girl Betty White was one of the most talented, comedic, and prolific dames of her time. She was also among the most beloved and respected entertainers in Hollywood history. I originally had the idea to publish this piece to celebrate her 100th birthday back in January.
As we all know, Betty passed away just two weeks before that mile marker. However, I say she still pretty much made it. I got to thinking about how a woman who has been in the world for that long must have learned a thing or two. I wondered what sage advice she'd give young women today who are navigating through modern dating. So, I decided to look into it and I was intrigued by what I found.
In honor of her 100 years of life, here's Betty White spilling the tea on love, sex, and relationships.
"If you're walking with your lady on the sidewalk, I still like to see a man walking street-side, to protect the lady from traffic … I still like to see that a man opens the door. I like those touches of chivalry that are fast disappearing."
From a 2011 Q and A with Chicago Tribune. Betty may not have had a traditional view on everything, but she still believed in common courtesy.
"The secret to our marriage was enthusiasm. When I knew Allen was coming home, I would freshen up my makeup and put on a new blouse."
On keeping the spark alive with her late husband, Allen Ludden in an interview with People Magazine.  I bet there are many men that would appreciate this sentiment. 
"Does desire melt with age? I'm waiting for that day to come."
To AARP Magazine in 2010 about the fact that she's still interested in sex. I guess you're never too old for sexual desire. 
"Avoid tweeting any photos of your private parts."
On social media etiquette, David Letterman 2011. Classic advice, and I love her humor. Gotta say that I agree. Keep private photos private.
"A lady likes to be complimented on her looks, her eyes, her figure. But the personality comments are much appreciated."
Reminding men what women really want, Chicago Tribune.
It's true. While it's nice to be flattered on our appearance from time to time, when a man verbally honors you on something intangible, such as a personality or character trait, it' feels like so much more like a genuine compliment. It's like, you know he really sees inside you.
"I married my first husband because we wanted to sleep together," she says. "It lasted six months, and we were in bed for six months."
Betty's first husband was U.S. military pilot Dick Barker. They met during World War II while she served with the American Women's Voluntary Services. They married in 1945 when she was 23, but their relationship was "a nightmare," as she put it bluntly to AARP Magazine in 2010, explaining how their marriage was primarily sexually based.
"The fact that you think of doing that for a lady, she should appreciate it completely. It's not feminine — look at all the male chefs! My beloved Allen loved to cook. He would concoct bands of dishes, and he would think they were works of art … I didn't always think it was! But it was very sweet."
In response to a male journalist for Chicago Tribune, 2011. I have to say that I very much agree with her on this one. I've never thought that cooking was feminine. It's pretty awesome when men cook for their lady.
"When you've had the best, who needs the rest?"
In a 2014 interview with Larry King, regarding her late husband Allen Ludden who died in 1981. It's obvious Betty was madly in love with him.
What is your favorite Betty White quote?
Feel free to drop a comment below or share using the buttons below.
Until next time,
Ash Pariseau