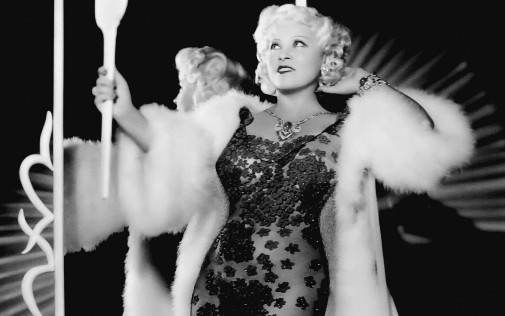 Mae West was a successful actress, playwright, and screen writer in the 1920s and 30s. Today, she's among the most admired in Hollywood history, largely due to her  quirky sense of humor and risque behavior.
She was a dame in her own right, as she was an ambitious woman of authority – one that pushed the limits without fear.
She owned her sexuality.
Mae West was probably the most provocative and sexually spirited actress of her time, and she knew how to work it to her full advantage. She once said, "I believe in censorship. I made a fortune off of it," when asked about being arrested for a suggestive performance in play she wrote and starred in called Sex (1927).
She refused to tame her image, and as she continued to play the part of the confident, desirable, and witty woman with mischievous sexuality, her success and popularity  rose. She was shamelessly sexy and made no apology about it.
She took command over her career. 
Mae West wrote and directed most of her own movies and plays. She has 10 writing credits out of 13 acting performances, including She Done Him Wrong (1933) , My little Chickadee (1940), and her last, Sexette in 1978.
Other roles she would accept and insist on rewriting some of her lines. Notorious for her use of clever double entedres, she's still one of the most quoted actresses of all time.
She didn't let age get in her way.
West made it clear that age was no matter for her. She landed a major contract with Paramount Pictures despite nearing the age of 40, which was uncommon at that time, especially for women.
She also preferred her romantic encounters to be with younger men. West, who coined the line, "Why don't you come up sometime and see me?" had younger men coming up to see her well into her old ages.
She was a Hollywood heroine. 
A true deviant of her era, she did as she pleased in an industry dominated by men. She knew how to respond to criticism well by maintaining and positive and composed demeanor.
She supported gays and civil rights among minorities, and flaunted a fuller hourglass figure that mesmerized her audience.
══════════════════
If you like this post, feel free to share or drop a comment below. 
If you'd like to get additional content and future special offers straight to your inbox, consider taking a moment to sign up for the Dames That Know Newsletter in the form below. Your privacy is priority and your information will never be shared.
Until next time,
— Ash Pariseau